Guided Tours of Lake Orta's eastern hills: 1) Miasino and a great view of Lake Orta.
A lovely tour of the traditional village of Miasino and the breathtaking view from the Sanctuary of the Madonna della Bocciola.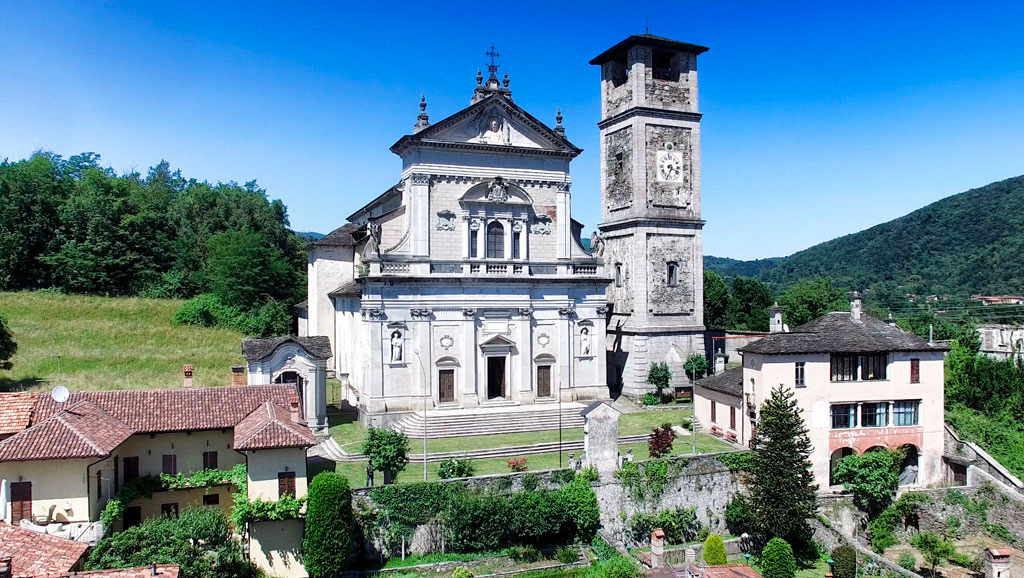 We will explore: the traditional village of Miasino - with Villa Nigra, the botanical garden "Giardino dei Semplici and the church of San Rocco (outside only)- and the Sanctuary of the Bocciola.
The latter can be replaced with the medieval Church of Our Lady of Assumpion, in Armeno, just 5 minutes by car form Miasino, whose fresco-paintings are well preserved.
When: : the best time is from April to October.
Where is lake Orta: Europe - Northwestern Italy - Piedmont Region - Province of Novara - Area of the Italian Lakes (just west of Lake Maggiore)
Distance from cities: 25 mi. (40 km) from NOVARA / 50 mi. (81 km) from COMO / 53 mi. (85 km) from MILAN / 78 mi. (125 km) from TURIN
Your guide: Cosetta Dal Cin, a Licensed Tour Guide and Art Historian, or one of the knowledgeable Tour Guides collaborating with Ortaeoltre.
Important: In order to make your Tour perfect we suggest a maximum number of 35 people.
Possibility to hire a Guided-Tour system (receivers and disposable earphones).
The eastern hills surrounding Lake Orta are dotted with charming traditional villages. There are many outstanding artistic features to visit with your guide and a beautiful natural environment: you can combine artistic with nature, according to your preference and the time available.
In this first sightseeing hill tour Ortaeoltre offers you the elegant traditional village of Miasino - with its enchanting Villa Nigra and the tiny "Giardino dei Semplici" - combined with the super-panoramic Sanctuary of the "Madonna della Bocciola" from which you'll admire Lake Orta in all its beauty!
Miasino is a village well preserved over the centuries, and it boasts the most sumptuous villa of Lake Orta, Villa Nigra, now owned by the local Municipality. The outside walls of this impressive building were all frescoed during the Renaissance and the Baroque ages, and it is now possible to visit some internal rooms thanks to on-going conservation works.
A guided walk of the village will then take us to the imposing parish church of San Rocco - embellished with valuable baroque artworks - overlooking a lovely grassy churchyard from which to admire the village below!
A few steps away there's one of the smallest botanical gardens in Europe, maybe in the world, waiting for us: The garden "Giardino dei Semplici di Miasino", with approximately a hundred medicinal plants. The peaceful and timeless atmosphere of this unexpected place will definitely seduce you!
Our Tour comes to an end at the impressive Sanctuary of the Madonna della Bocciola - just a five-minute drive from Miasino -, an 18th-century church covered floor to ceiling in a remarkable display of neoclassical wall-paintings. What makes it even more special is a secluded tiny chapel that preserves some relics of the miraculous bòcciolo (blackthorn tree) on which the Holy Virgin appeared to a young shepherdess in 1543. According to tradition, many graces have been granted over the centuries in this elegant and panoramic church.
Duration of this tour
This amazing guided tour will last 2:30 / 3:30 hours, depending on time available.
Possible combinations
This tour can be combined with one of the other half-day hill tours here described. It can also be combined with the Orta Classic Tour or a part of it. Your Guide will advise you at best and will give you further ideas or proposals.