Visit Lake Orta: a lovely mini cruise plus Orta and island S. Giulio
A relaxing experience on board a comfortable tourist motorboat (exclusive private service). This tour includes a nice cruise on Lake Orta plus a visit to the Island of San Giulio and the village of Orta.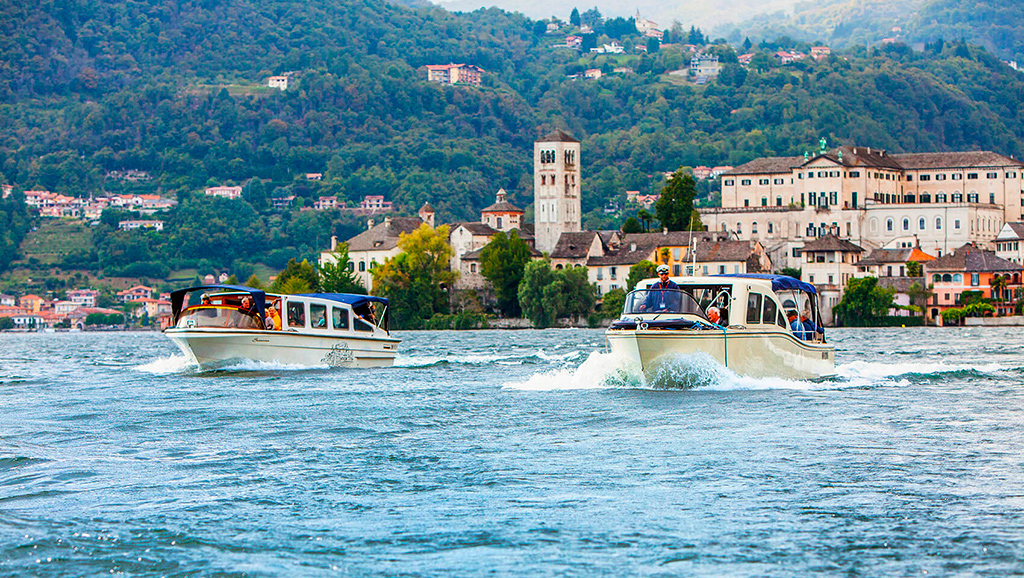 We will explore: Lake Orta (central section) - Island San Giulio - Village of Orta
When: the best time is from mid-May to September (better on weekdays!).
Where is lake Orta: Europe - Northwestern Italy - Piedmont Region - Province of Novara - Area of the Italian Lakes (just west of Lake Maggiore)
Distance from cities: 25 mi. (40 km) from NOVARA / 50 mi. (81 km) from COMO / 53 mi. (85 km) from MILAN / 78 mi. (125 km) from TURIN
Your guide: Cosetta Dal Cin, a Licensed Tour Guide and Art Historian, or one of the knowledgeable Tour Guides collaborating with Ortaeoltre.
Important:The boat with private service can hold a maximum of 30 people.
Possibility to hire a Guided-Tour system (receivers and disposable earphones).
This amazing half-day trip will leave you with wonderful sensations, fully immersed in the beauties of Cusio - ancient name of Lake Orta. A spacious and comfortable tourist boat (private service), will pick us up in Orta and take us around the lake for a relaxing cruise during which we'll admire elegant old buildings, the hillside villages of medieval origin, the scenic peninsula of Orta and the beautiful sanctuaries dominating the lake from above. Your guide will share stories and legends about this romantic lake of fluvio-glacial origin, with time to enjoy moments of silence and relaxation.
During our cruise we'll land at the beautiful and enigmatic Island of San Giulio, and after a visit of about one hour, we'll continue our cruise towards the delightful village of Orta San Giulio. Here you'll have free time at your leisure (or if you prefer a guided walk of the village): Orta, the pearl of the lake, is fully pedestrianised, with picturesque alleys, little squares, craft shops, cafes and eateries. Not to be missed!
Duration of this tour
This exclusive guided tour lasts approximately 3 hours. It includes a cruise on a spacious private motorboat; a visit to the picturesque Island of San Giulio, and a stop in the romantic and delightful village of Orta (leisure time or visit with Guide).
Possible combinations
This Half-Day (HD) Tour can be combined with other HD guided tours, such as the Panoramic Tour at "Cusio's Balcony", or with one of the Guided Tours in the Hills (see here below). A perfect combination is also a guided visit to the Sacro Monte di Orta (UNESCO), reachable via a 25-minute walk from Orta's piazza, or in a few minutes by taxi or tourist train. Other combinations will be directly suggested by your Tour Guide.