Visit Lake Orta: guided Tour of Island San Giulio and village of Orta
A highly requested tour with an expert Guide! Two gems of Lake Orta that are located close to each other: the Island of San Giulio and the romantic village of Orta.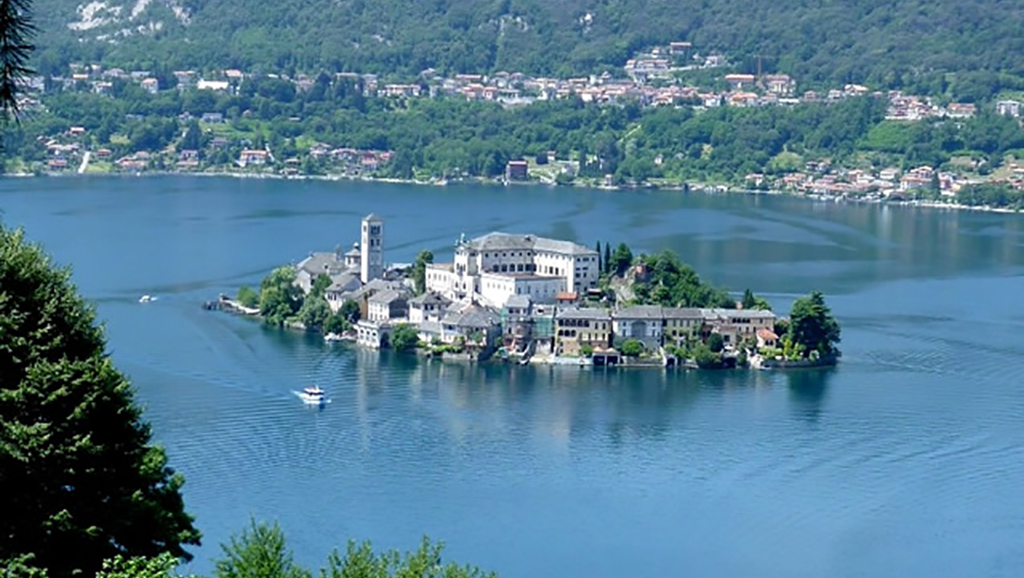 We will explore: the traditional village of Orta and the Island of San Giulio.
When: the best time is from March to October (better on weekdays!).
Where is lake Orta: Europe - Northwestern Italy - Piedmont Region - Province of Novara - Area of the Italian Lakes (just west of Lake Maggiore)
Distance from cities: 25 mi. (40 km) from NOVARA / 50 mi. (81 km) from COMO / 53 mi. (85 km) from MILAN / 78 mi. (125 km) from TURIN
Your guide: Cosetta Dal Cin, a Licensed Tour Guide and Art Historian, or one of the knowledgeable Tour Guides collaborating with Ortaeoltre.
Important: for a perfect experience we advise that groups should not exceed a max of 30/35 people per Guide. Larger groups are nonetheless accepted.
Possibility to hire a Guided Tour System (receivers and disposable earphones).
Those who call on Lake Orta for the first time cannot fail to visit the village of Orta San Giulio and its beautiful, enigmatic island that rises in the middle of the lake, at just 400 meters/1300 feet from the shore. The guided tour takes place in a wonderful setting, among centuries-old buildings, cobbled streets, medieval stone portals, frescoed walls, and a short journey on the water, "hovering" between the blue of the sky and the transparency of the lake.
The tour includes a visit to the romantic and relaxing village of Orta San Giulio, which is fully pedestrianized and brimming with craft shops, cafés and eateries, and the picturesque Island of San Giulio, small but rich in history and legends, home to the great Benedictine abbey "Mater Ecclesiae" with about seventy cloistered nuns. The well preserved Romanesque church of the island - the Basilica of San Giulio - is 900 years old, with an interesting long history dating back to the end of the 4th century, and a series of colorful frescoes inside. The remarkable Ambo of San Giulio, completely carved in a dark green Oira stone, is a sculptural jewel of the early 12th century that is unquestionably worth a visit!
Duration of this tour
The guided tour of Orta and the Island San Giulio lasts a half day (HD), approximately 2 hours.
Possible combinations
The tour Island San Giulio and the village of Orta can be combined with other sites, such as the Sacro Monte of Orta (UNESCO), or with one of the tours on the hills inserted here below. With fine weather we might make this tour longer with a nice lakeside walk of about 1 hour running along the scenic peninsula of Orta.